MECALAC, il Red Dot Design Award al Revotruk
MECALAC si è aggiudicata il Red Dot Design Award con il suo innovativo dumper compatto Revotruck. Una macchina dalle caratteristiche uniche che punta su ergonomia, stabilità e sicurezza operativa in spazi ristretti e complessi.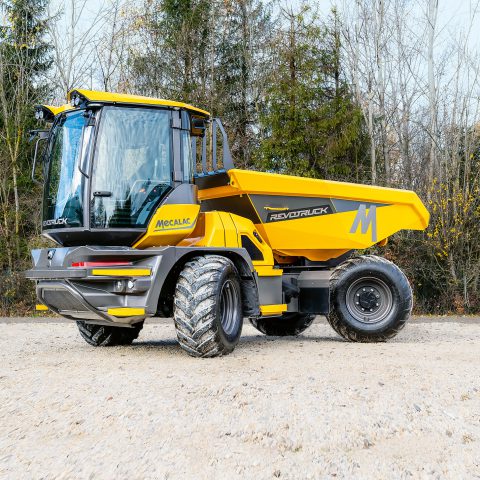 MECALAC fa parte di quel ristretto numero di costruttori che si sono costruiti una solida reputazione nella costruzione di macchine compatte per ambienti urbani. Un vero e proprio unicum che, partendo da una consolidata storia di macchine speciali, è divenuta leader mondiale in questo specifico settore.
Una gamma, quella di MECALAC, caratterizzata da una profonda ricerca ergonomica che coinvolge design, semplicità di utilizzo e una forte trasmissione di valori basati sull'intuitività dei comandi.
Non stupisce affatto, quindi, l'assegnazione del prestigioso Red Dot Design Award "Best of the Best" per il design innovativo e orientato alla sicurezza del suo nuovissimo REVOTRUCK. Il Red Dot Design Award è infatti uno dei concorsi di design di prodotto più rinomati a livello internazionale e il riconoscimento "Best of the Best" è il più alto onore in questa competizione.
La cabina rotante del MECALAC EVOTRUCK
La caratteristica di base del REVOTRUCK è proprio la cabina rotante che offre la migliore visuale senza dover effettuare manovre. Un elemento tecnico fondamentale per una macchina compatta ad alta mobilità come un dumper gommato. Infatti questo design garantisce agli operatori di potersi concentrare rapidamente e in modo ottimale sul lavoro e sull'ambiente circostante, mantenendo una postura corretta e confortevole. Oltre che aumentare in modo esponenziale la sicurezza operativa.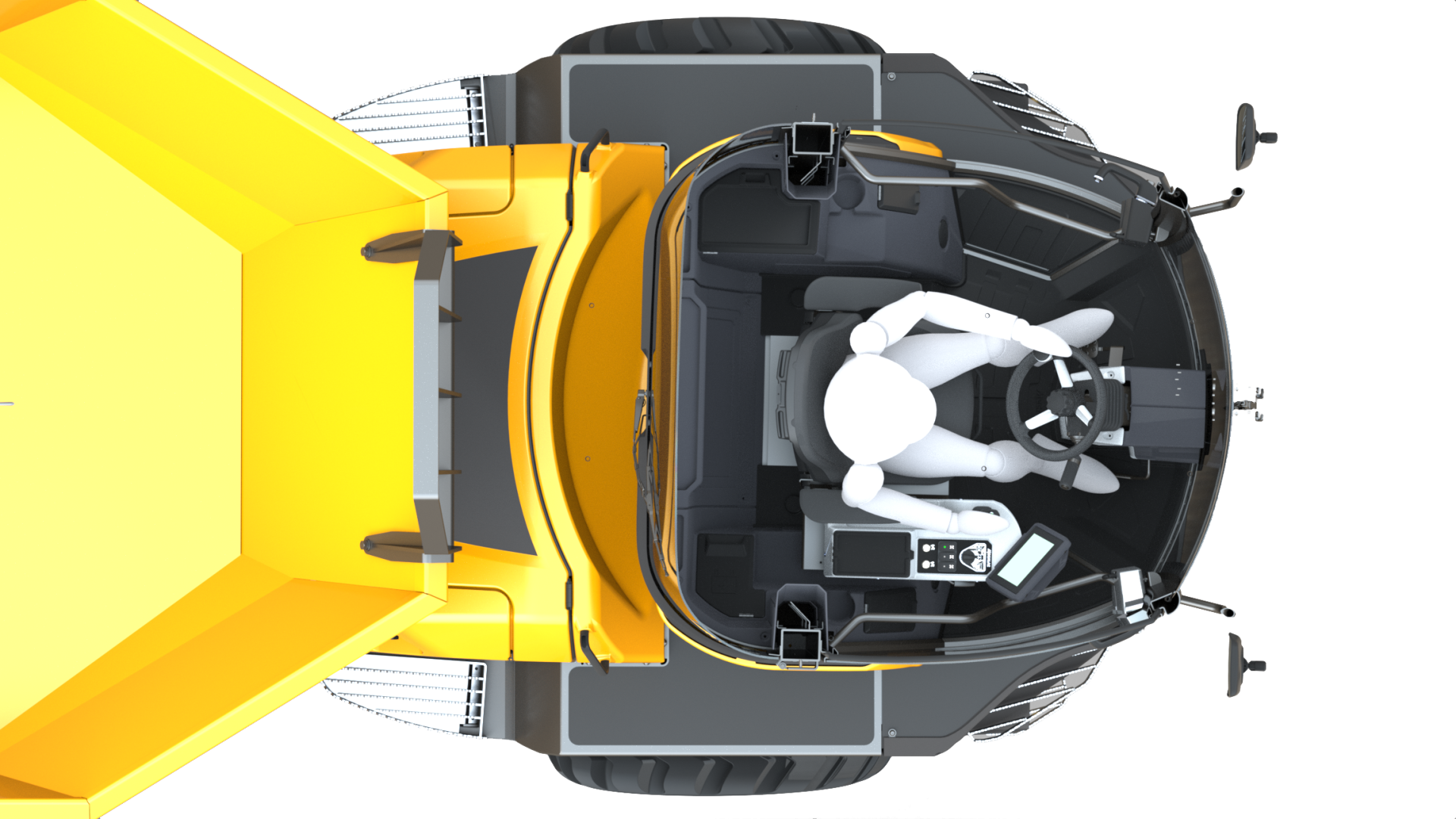 Mecalac
L'ergonomia è al centro del concetto del REVOTRUCK grazie ad un modo diverso di pensare i classici dumper compatti off-road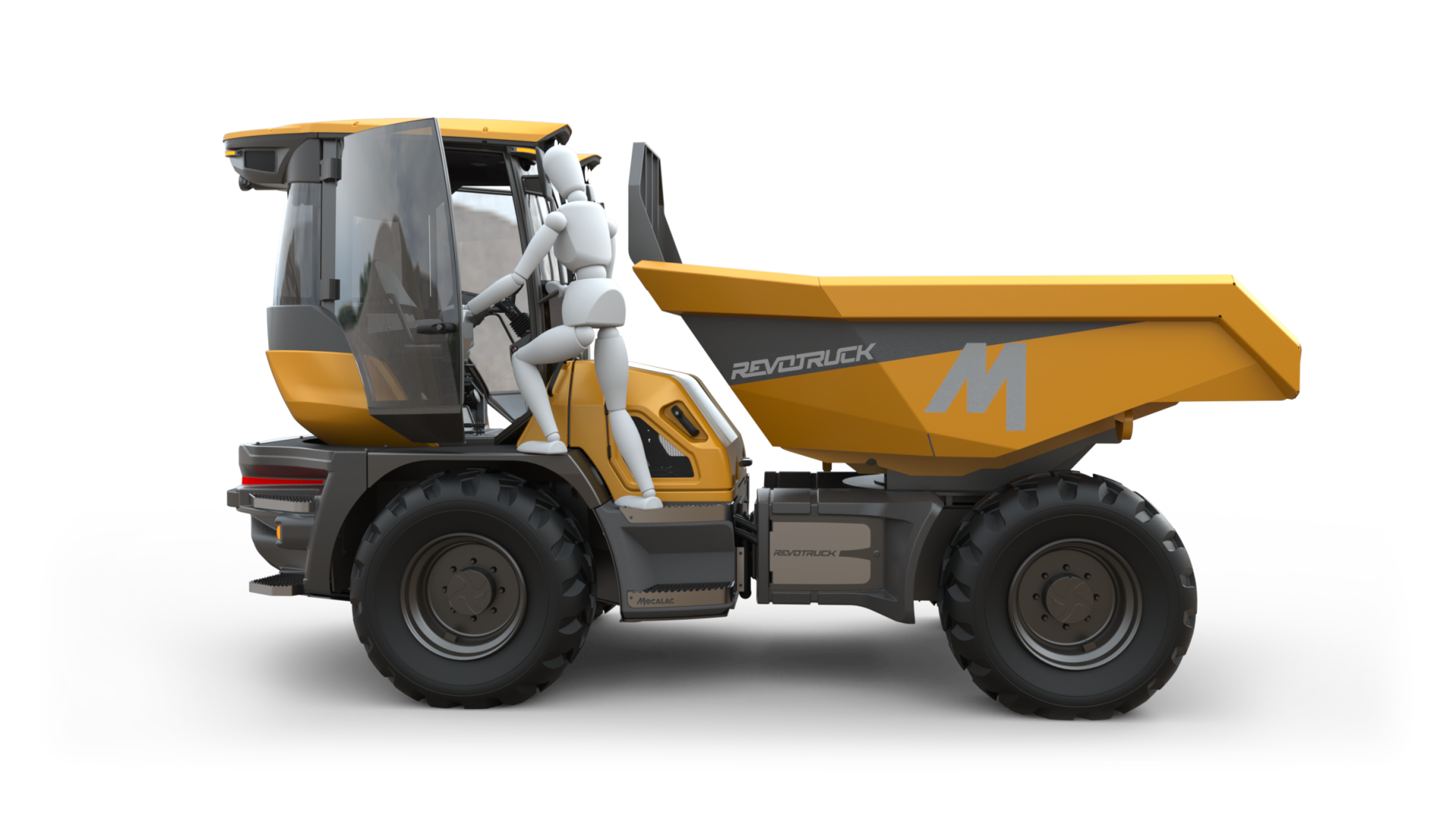 Mecalac
L'accessibilità in piena sicurezza è uno dei punti di forza di Revotruck
Accesso su quattro punti per una sicurezza effettiva
Per agevolare l'accesso al posto guida il REVOTRUCK è dotato di quattro ampi punti di accesso alla cabina. Questo in modo del tutto indipendente dalla sua posizione sulla base della rotazione.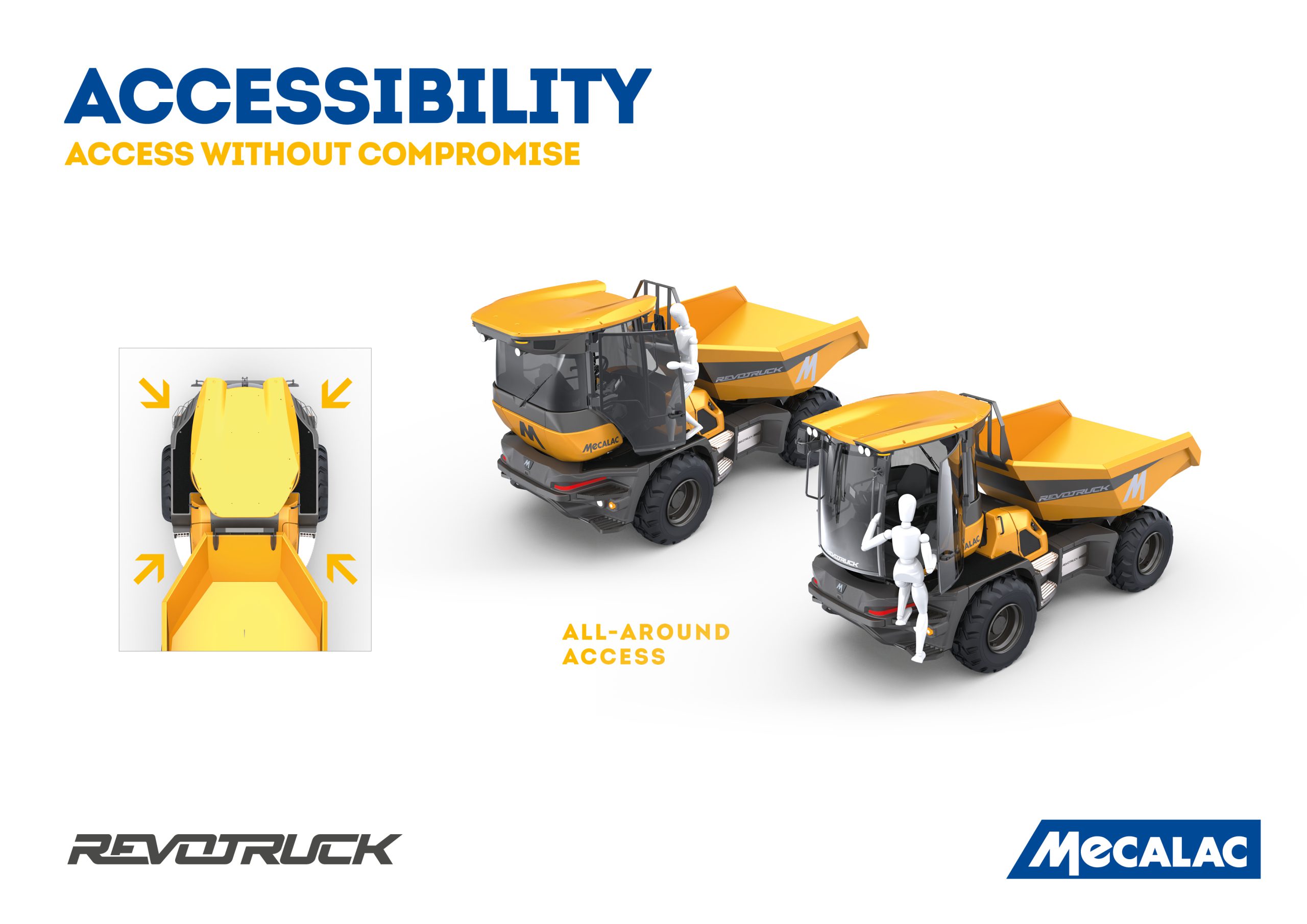 Mecalac
Sicurezza e comfort sono i due must a cui punta con decisione il Revotruck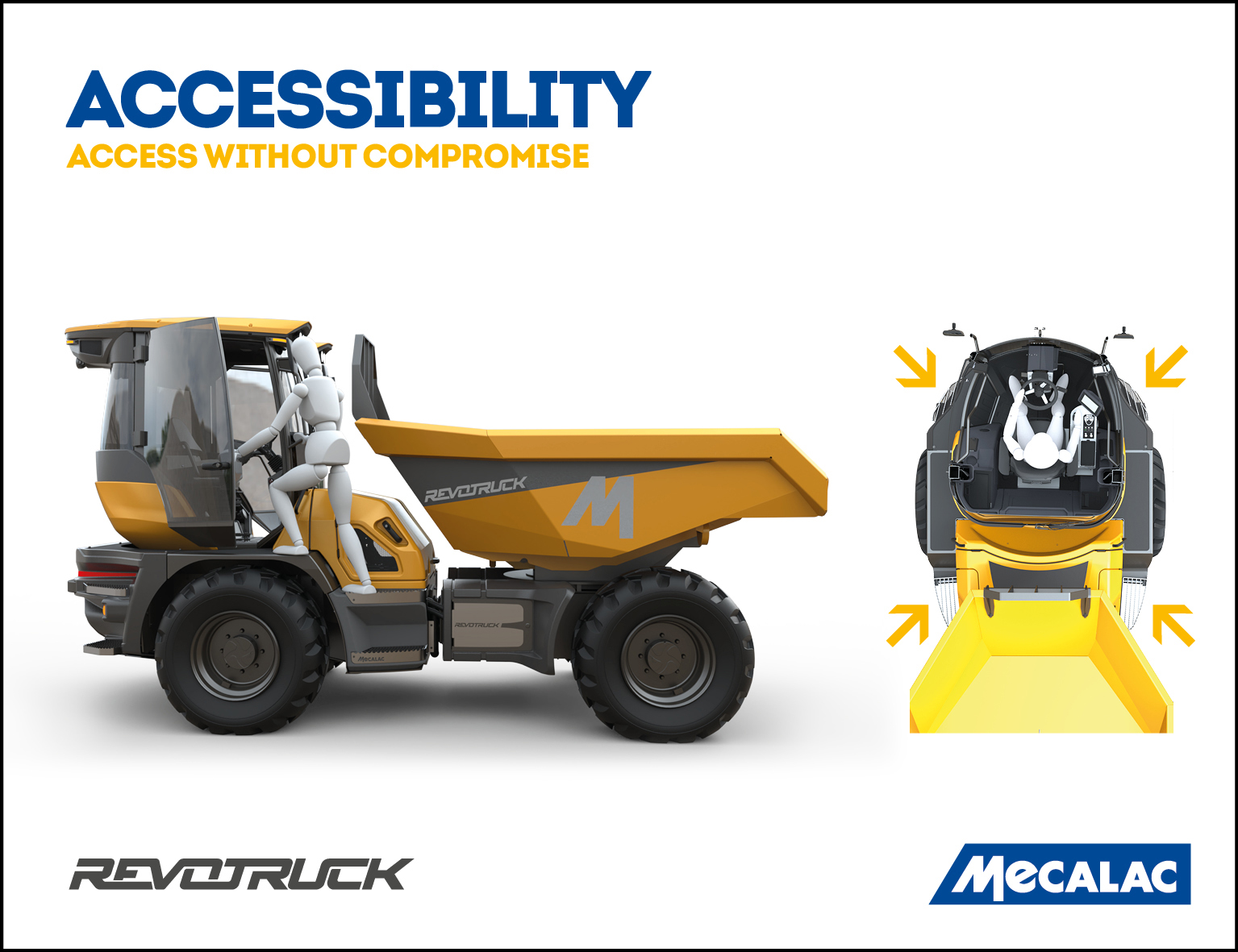 Mecalac
La cabina di guida del REVOTRUCK è l'elemento specifico della macchina
L'architettura con telaio rigido per avere la massima stabilità
L'oscillazione centrale del telaio di +/- 10°, per un totale di 20°, assicura stabilità e trazione permanenti in tutte le condizioni. L'impostazione del revotruck è infatti a telaio unico e non articolato per aumentare la stabilità della macchina. Questo telaio unico è abbinato a quattro ruote di uguale dimensione con tre diverse modalità di sterzata commutabili fra loro. Quindi è possibile sterzare solo sulle due ruote anteriori, con tutte e quattro le ruote oppure a granchio. Questo permette di lavorare in modo agile in spazi complessi e stretti.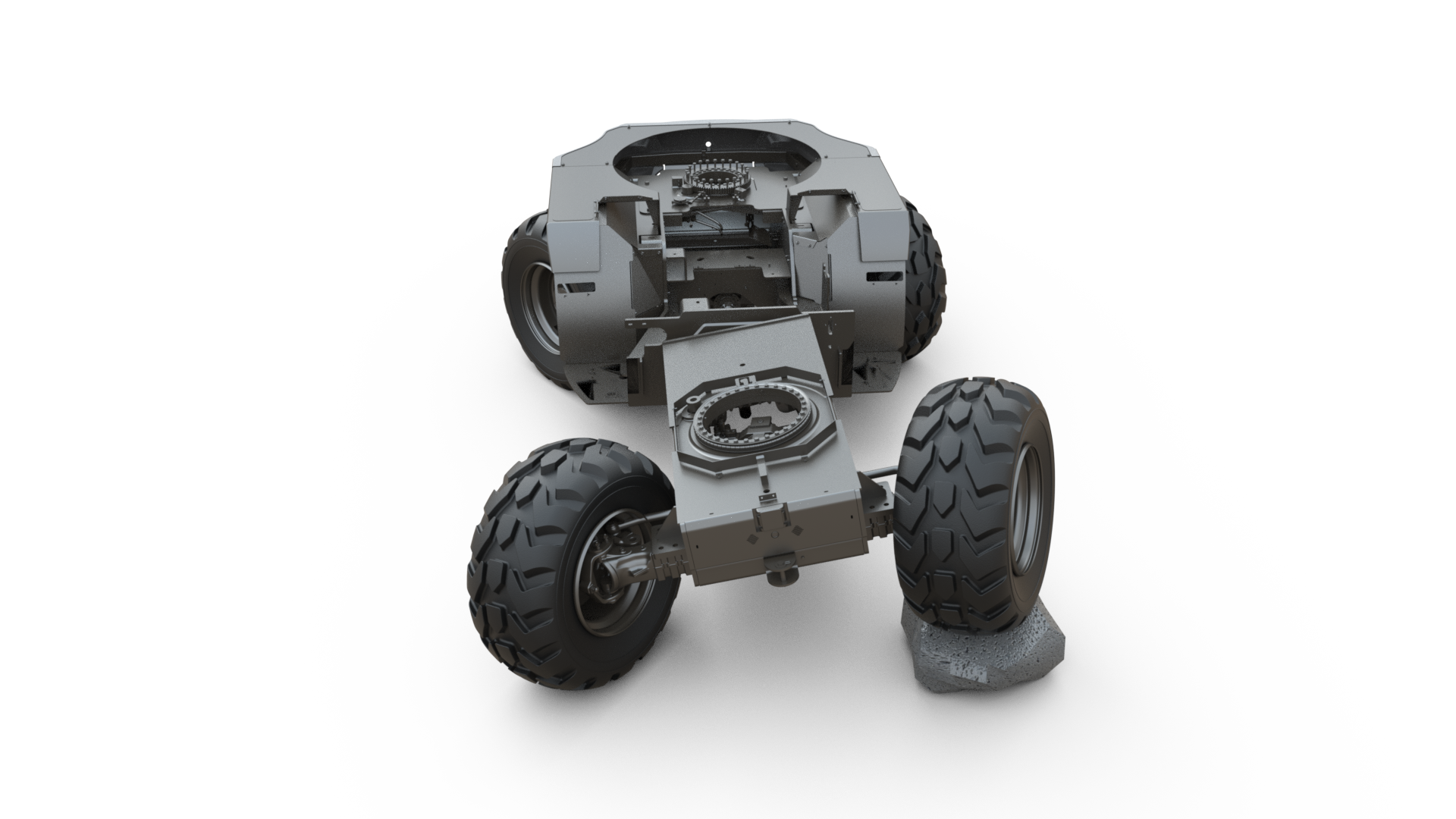 Mecalac
Il telaio del Revotruck si ispira in modo evidente a quello dei trattori specializzati da montagna
Il REVOTRUCK, nei fatti, rivoluziona il modo di lavorare con il dumper e porta la sicurezza ed il comfort dell'operatore a un nuovo livello. Quindi dopo la nomina tra i finalisti ai BAUMA Innovation Awards, questo nuovo riconoscimento si aggiunge al crescente numero di premi che Mecalac ha già ricevuto per questo prodotto. Ossia il "Grand Prix matériel" DLR (Francia), "Plantworx Innovation Award" (Regno Unito) e "Premio Potencia" (Spagna).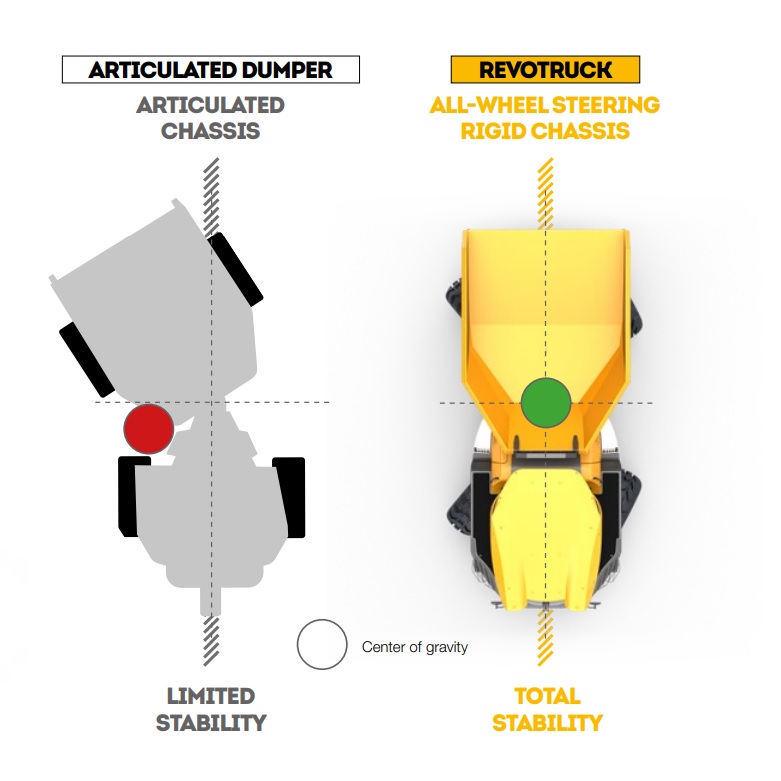 Mecalac
L'impostazione del telaio del REVOTRUCK permette di avere il baricentro sempre nella stessa posizione aumentando in modo drastico la stabilità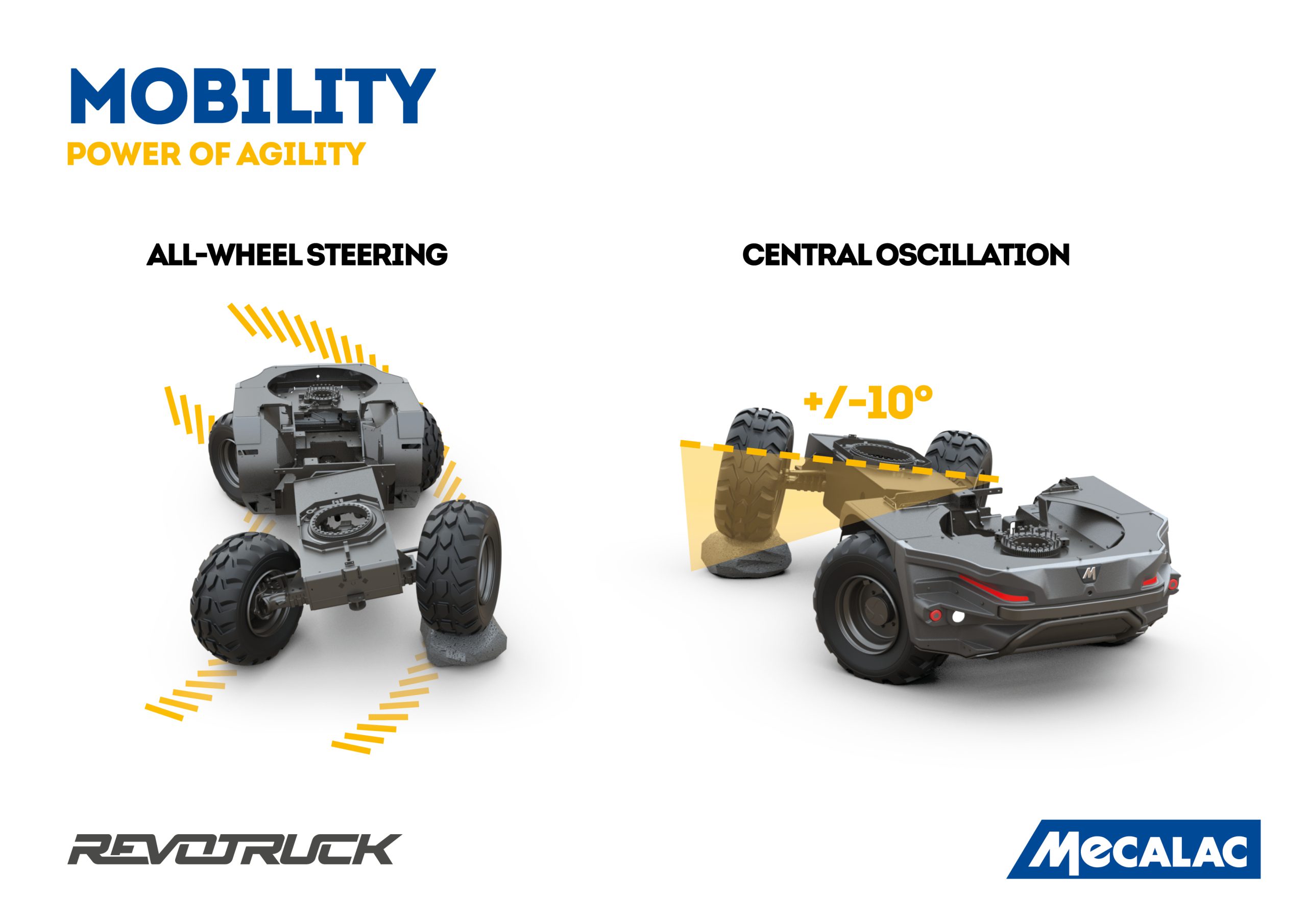 Mecalac
Telaio oscillante e tre modalità di sterzo permettono al Revotruck di muoversi in spazi preclusi ad altri dumper di pari categoria